Immutable X verification guide​
If you have an Immutable X wallet, you can use it to verify your identity on Collab.Land. Follow these steps to verify your wallet:
In an Immutable X community, go to the #collabland-join channel and click the "Let's Go!" button.

Select the "+ Verify with a new wallet" option from the wallet delegation page.

Select the "Show All" button to show all available wallet options, and select Immutable X.

In the Immutable X popup, select Sign, and then sign the message with Metamask

Click the Sign Message button on the Collab.Land connect site

Verify the signature request in the Immutable X popup, and click next. Finally, sign the message in Metamask to complete the verification process.
note
If this is the first time you have used Immutable X, you will first need to set up an Immutable X Key.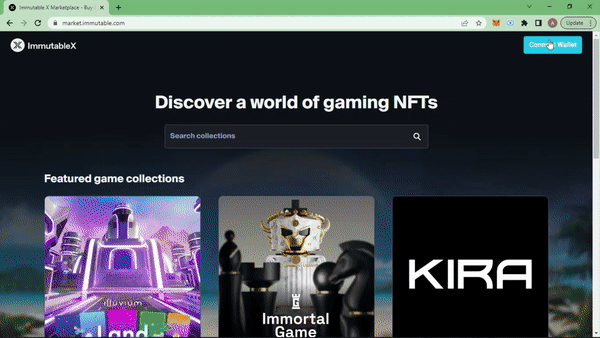 Click the "Set up key" button, sign the message in Metamask, and click Done to set up your key.
Supported Networks​
tip
Visit the Immutable docs for details on their layer 2 solutions and supported networks.