Ronin Wallet is a non-custodial crypto wallet available as a browser extension and mobile app. Check out the Ronin Wallet docs to learn more.
Ronin verification guide​
To verify asset ownership in Discord using Collab.Land for Ronin(Axie), follow this guide: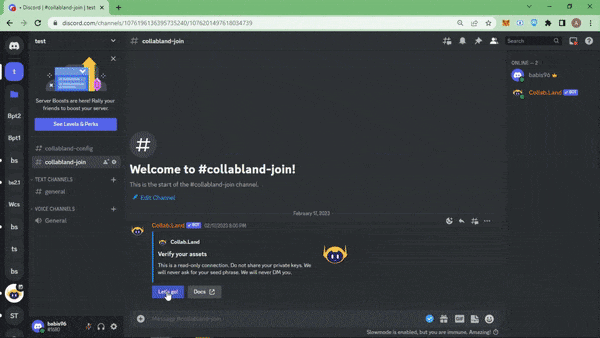 Go to the #collabland-join channel in your Discord server or type /help to access the Collab.Land bot command.
Click the "Let's Go!" button to start the verification process.
Click "+ Verify with a New Wallet".
Choose your Ronin wallet from the options presented.
Read the instructions in the follow-up message, then click "Connect Wallet" and sign with your wallet. Make sure the message shown in Discord matches the one you're signing in your wallet.
note
If you don't have a skymavis account, you'll need to register first by clicking "Register".
If you already have an account, log in using your credentials. If you have trouble connecting, try logging out of your skymavis account before starting the verification process.